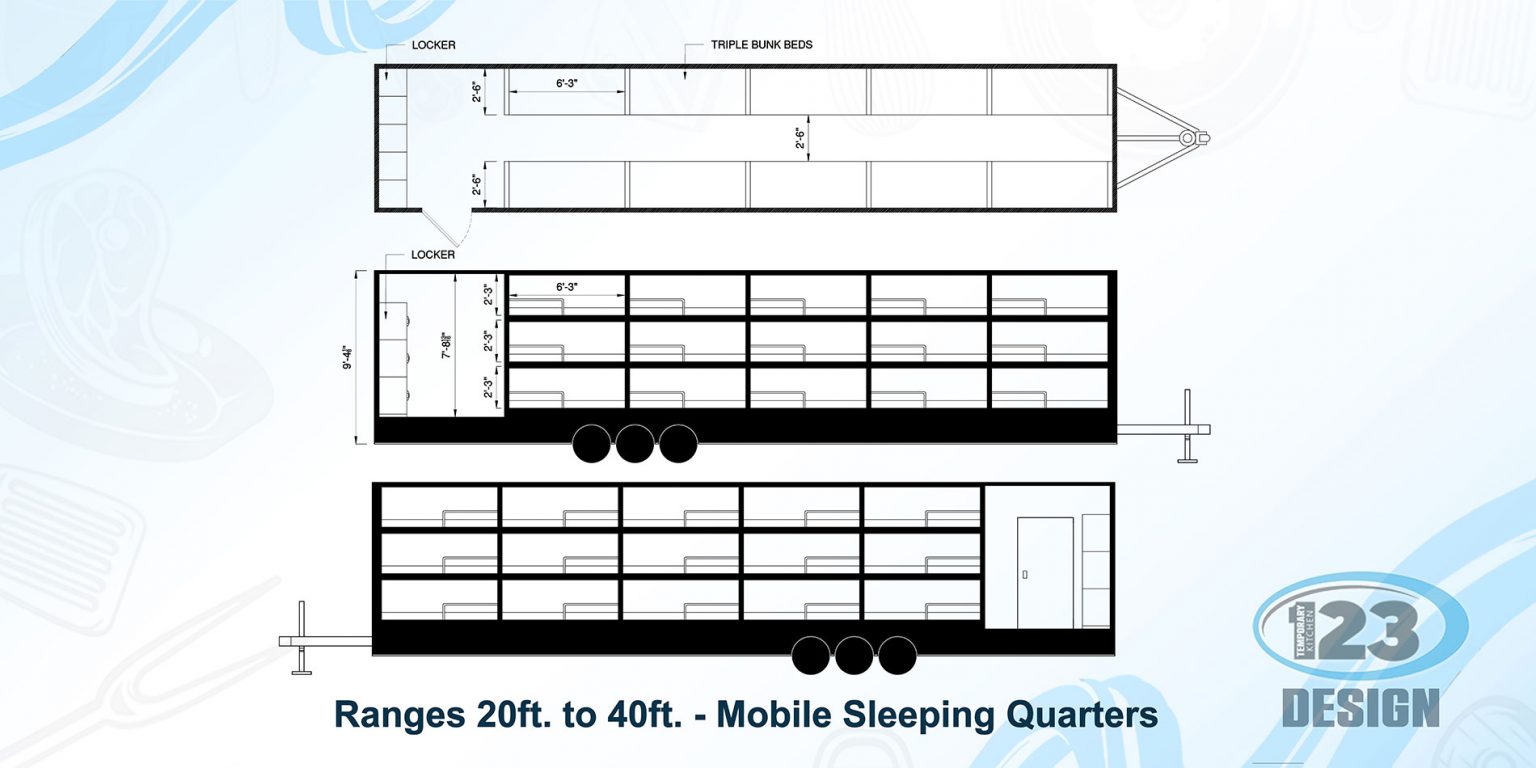 Mobile Sleeping Units 
Your teams must be prepared to act as swiftly as possible in the event of an emergency or tragedy. And if they don't have access to basecamp support services for their critical rest, your workers won't be at their best. Your base camp ought to contain all the necessary amenities to accommodate individuals if the scenario necessitates a lengthy deployment. You may depend on Mobile Kitchen Rental to be your partner in workforce management logistics for remote camps during these difficult times. Depending on your unique demands, we offer mobile sleeper trailer rentals in a variety of sizes and configurations.
Heating, Air Conditioning & Air Purification Systems
Meets or Exceeds Cal Fire & Life Safety Regulations
Privacy Curtains
Pillow Top Anti-Bacterial Mattresses
Reading Lights
Daily Cleaning and Attendants on Duty 
Exterior Handwashing Station with Bio-Friendly Soap & Towels
Eco-Friendly Propane Quiet Generators
For on-site sanitation and personal care, Mobile Kitchen Rental bunk bed housing trailers for hire or lease provide 6- to 42-bed units with an optional outdoor hand washing unit. For wildfire crews, isolated man camps, evacuations, and quarantine situations, these totally self-sufficient base camp housing modules have proved vital.
Our temporary housing alternatives are portable and remote, and they come in many shapes and sizes. In order to give all the comforts of home, they also feature electricity generators and other facilities. Our movable temporary housing is available for rent or lease, and it can be swiftly deployed together with additional mobile support units like mobile kitchens and restroom trailers. We provide a variety of alternatives so that your personnel may receive the necessary rest they require and be equipped for any circumstance.
Your Reliable Team in an Emergency
From long-term job sites to special events to natural catastrophes, Mobile Kitchen Rental has a great deal of expertise in reacting to calamities. For disaster response teams, on-site staff employees, and even overnight event participants, we provide comfortable units as a firm that offers comprehensive base camp services with mobile and remote temporary housing alternatives. You can count on us to bring the tools you require on schedule, arrange for setup, and then dismantle your mobile units once they are no longer required.
Workforce Housing
Base Camp Services Worldwide
Mobile Crew Camps
Camp Management & Operations
Camp Operations Services
Man-Camp Site Design & Development
The beginning of our options for on-site lodgings is workforce modular homes for sale or lease. We also provide answers for laundry, bathrooms, bathing, and food service. We deliver the necessities so that your people can live and work comfortably, no matter how hostile or remote your location may be. To find out more about the site management services and man camp construction services offered by Mobile Kitchen Rental, get in touch with us right away.
Worldwide companies and organizations have depended on Mobile Kitchen Rental to provide transportable DFACT rental housing tents and buildings during emergencies. Emergency responders, refineries, pipelines, strike organizers, filmmakers, concert organizers, event planners, and the military are just a few of the groups we work with. We have worked hard to establish a reputation for adaptable solutions, quick turnaround times, and sector knowledge. We are the mobile sleeping business to call if you have inquiries about temporary emergency facilities or want base camp services as quickly as feasible.
We are pleased to offer our clients services both domestically and internationally.
About Our Disaster Relief Company
An international organization and person can obtain equipment and worker housing trailers from Mobile Kitchen Rental, a leading emergency assistance provider. We can deploy swiftly and effectively to give you the resources you want for turnkey base camps and single-resource support thanks to our sizable fleet of asset-owned equipment.
Emergency Catering
Industrial Catering
Remote Catering
Catering Services
Concert Tour Catering 
Oil Field Catering
Military Catering Services
Incident Catering Services
Whatever the circumstance, our disaster management team, and workers were prepared to offer the tools, materials, and professional advice required to significantly support people in need, including our military brothers and sisters serving overseas. In addition to administration, site preparation, and catering, our team also provides comprehensive ablution services, security, badging MWRs, power generation, and laundry services.
Mobile Kitchen Rental has been there to offer our equipment, services, and expertise to help in the front-line defense against environmental problems caused by enormous disasters, from hurricane relief services to wildfire support to any emergency anywhere.
Mobile Kitchen Rental is committed to providing our customers with the best service at the most reasonable price. Even in the worst circumstances, we want your personnel to have access to modular temporary workforce housing shelters. Additionally, we are able to provide a safer working environment for our crews in the upstream, midstream, and downstream areas thanks to our superior green and clean equipment.
A decrease in the number of man-hours required to commute to and from work sites.
Crews can have complete relaxation while the project's expenditures are reduced.
Workforce turnover is greatly reduced
Giving staff members a place to live that is tidy, functional, and pleasant.
Pillow-top beds, a microwave, a kitchen, and a turnkey establishment with a flat-screen TV.
Travel trailers provide you the freedom to scale up or down depending on the needs of the project.
Providing Support for Your Emergency Logistics Plans
A crisis may be prepared for, but once it occurs, time is suddenly a luxury. Our business is dedicated to assisting clients in developing the best field kitchens and emergency response strategies. Mobile Kitchen Rental will help you finish the job and save lives by giving your troops the tools and resources they need.
We are aware of the difficulties that societies and governments encounter during crises. As a result, we customize our services to satisfy all of your demands. We provide the tools you need to be flexible and prepared for everything, from complete worker housing solutions to base camp construction to mobile medical units.
Mobile Kitchen Rental support services are supported by years of expertise. You can rely on us to deliver the appropriate solutions in a timely manner whether you are creating a new response plan or need to update your existing one. For more information on what we can do for you, request a meeting with our team.
The best and most reputable supplier of on-site remote camp workforces is Mobile Kitchen Rental.
Temporary housing options and manage logistics. We are miles ahead of the rest of our rivals, which enables us to offer our clients the finest services available based on our extensive industry knowledge. Almost all temporary housing requirements for fires, natural disasters, insurance claims, building sites, and distant workforces may be met by our fleet of travel trailers anywhere in the globe. To suit your needs, our rentals are flexible and available for either long or short terms.
Portable Water Trailers
Generator Trailers
Bunk Bed Trailers 
Trailer Rental 24-Hour Service
Tent Structures Clear Span
 Mobile Command Trailers
Mobile Kitchen Trailers
Dishwashing Trailers
Refrigeration Trailers 
During building sites, natural catastrophes, affordable housing renovation projects, insurance claims, military kitchen rentals, and even sizable entertainment events, Mobile Kitchen Rental is a top provider of temporary housing. For the majority of scenarios, our temporary bunk bed housing trailers for rent or lease provide all the conveniences of a home. When an insurance company's customers require temporary accommodation due to a fire or flood, we deal with many of them. When their workforce requires simple access to the job site with cost-effective and practical emergency base camp solutions, the construction, transportation, and huge infrastructure projects rely on us.
Office Trailers
Hand Washing Stations
Housekeeping
Remote Site Catering
Dining Structures
Restroom Trailers
Laundry Trailers
Shower Trailers
Using our Rapid Response Team and base camp preparation services in the event of a natural catastrophe, Mobile Kitchen Rental also offers rapid answers. Based on dependability and convenience for emergency temporary facilities, state, federal, and local government organizations use our Company as a top vendor of choice. From numerous facilities across the continental United States and abroad, we offer temporary housing and services.
Environmental Support Service
Debris Clean up
Spill Clean Up
Fire Damage Restoration
Asbestos Abatement
Mold Remediation 
Whether the assignment requires speedy and pleasant living accommodations at a 40–60% discount compared to traditional housing alternatives, military field kitchen rentals, emergency response initiatives, or a strict timetable, Mobile Kitchen Rental may help. Large out-of-town projects can benefit from our flexible temporary remote workforce housing alternatives.
Construction Site Housing Benefits 
A reduction in man hours from extended time spent traveling to and from job sites.
Crews can be fully rested while decreasing costs on the project.
Workforce turnover is greatly reduced
Provides employees with clean, efficient, and comfortable housing.
A turnkey facility that includes a flat-screen TV, microwave, stove, and pillow-top mattresses.
Travel trailers allow you the flexibility to scale up or down as the project dictates. 
For whatever size event, the Mobile Kitchen Rental fleet offers a selection of mobile and remote temporary housing alternatives. It is essential and crucial that housing is immediately rebuilt after a tragedy. Hotel rooms and conventional housing become limited, and restoring housing swiftly and safely serves as a crucial barometer for public confidence in how well disaster recovery is proceeding.
Our complete worker housing solutions are the ideal choice for every circumstance thanks to their mobility, flexibility, and lack of transportation-related special permits. Every unit in our inventory is C.A.R.B. certified and newer. This indicates that the components of our units have been put through testing and have passed the airborne hazardous control measure, which was put in place to lessen formaldehyde emissions from composite wood goods following Hurricane Katrina. Additionally, Mobile Kitchen Rental provides an implementation of labor camp management.
Environmental Support Service
Debris Clean up
Spill Clean Up
Fire Damage Restoration
Asbestos Abatement
Mold Remediation 
Disaster Contingency Planning 
You can rely on Mobile Kitchen Rental to assist you in developing your disaster preparedness strategy. Together, we will discuss the logistics and your unique requirements as you create a personalized strategy with reasonable and logical answers. We recognize that the development of your military catering services or temporary workforce housing camp services relies heavily on our relationship in order to serve your audience in the most efficient manner possible. To make sure that everyone is taken care of, we constantly go above and beyond. We provide isolated workers in the mining, oil, and gas sectors with cozy and affordable temporary housing options.
Mobile Sleep Trailers 
The Mobile Kitchen Rental Mobile Sleeper Trailers were initially created to offer an on-site solution to help response teams manage long-term Base Camps while getting enough rest, but they can also be used as temporary hotel rooms during spring events, sleeping quarters for oilfield workers, and sleeping facilities for wildland firefighters and Incident Management Teams during disasters.
Dishwashing Trailers
Refrigeration Trailers 
Portable Water Trailers
Generator Trailers
Bunk Bed Trailers 
Trailer Rental 24-Hour Service
Tent Structures Clear Span
Mobile Command Trailers
Mobile Kitchen Trailers
In order to combat fatigue, Wildland Fire Agencies frequently use Mobile Kitchen Rental portable temporary housing for rent or lease, as well as our HVACs and Insulated Tents because they offer a safer and more practical alternative to sending firefighters on the fire line to drive long distances in search of lodging.
Reading Lights
Eco-Friendly Propane Quiet Generators
Meets or Exceeds Cal Fire & Life Safety Regulations
Exterior Handwashing Station with Bio-Friendly Soap & Towels
Daily Cleaning and Attendants on Duty 
Pillow Top Anti-Bacterial Mattresses
Privacy Curtains
Heating, Air Conditioning & Air Purification Systems
A practical workstation may be quickly and easily created with Mobile Kitchen Rental Temporary Facilities. Although our trailers have a variety of uses, they are most frequently employed as crew accommodations in locations without other permanent structures. These man camp services are most frequently leased but can also be rented because they are temporary solutions.
Mobile Kitchen Rental is aware that building a cooperative network with other significant companies results in "win-win" alliances that enable us to provide a greater range of goods and services. The ability to efficiently manage a full support package for every event, both scheduled and unforeseen, is made possible by using the knowledge of other specialty service providers.
 Emergency Catering
Incident Catering Services
Military Catering Services
Oil Field Catering
Concert Tour Catering
Catering Services
Remote Catering
Industrial Catering
To reduce the amount of downtime you could have during planned or unforeseen shutdowns, Mobile Kitchen Rental will work closely with your business to establish emergency response services. Your company may reopen as easily as possible by employing Mobile Kitchen Rental's logistical tools and temporary worker housing camp trailers.
Shower Trailers
Office Trailers
Hand Washing Stations
Housekeeping   
Dining Structures  
Restroom Trailers
Laundry Trailers
You can count on Mobile Kitchen Rental to support the development of your disaster preparedness and emergency response base camp services.