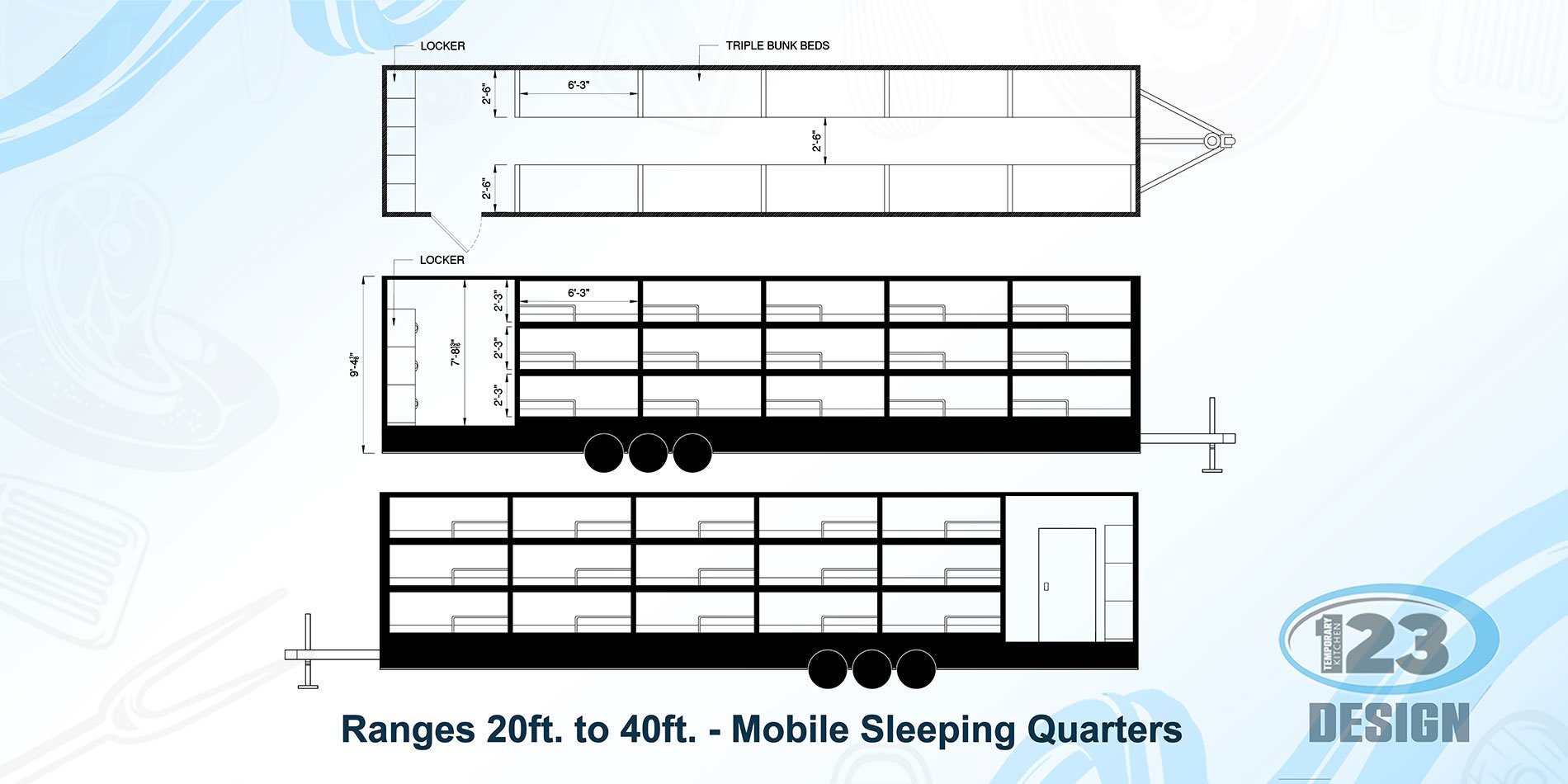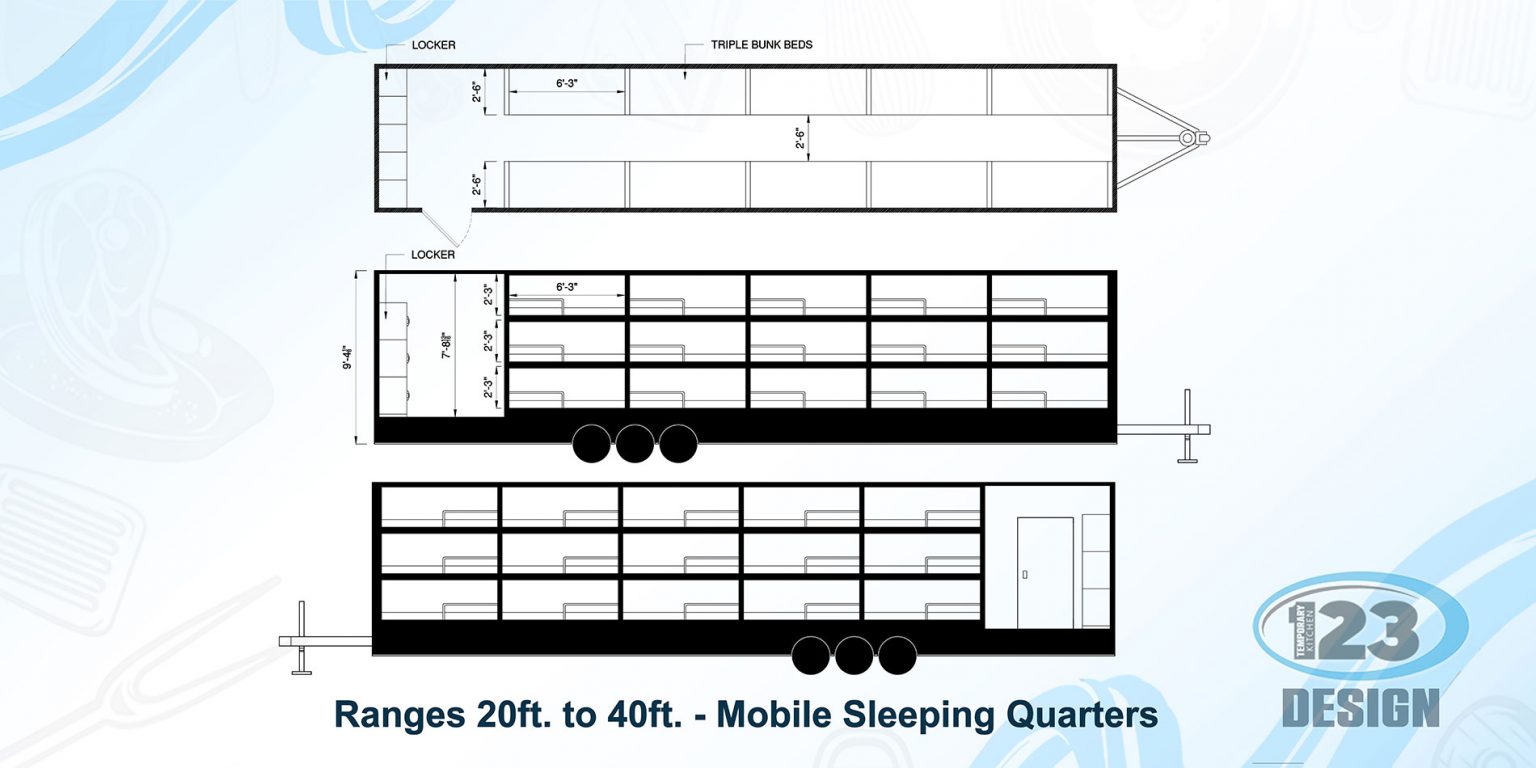 Bunk House Trailers by Mobile Kitchen Rental are intended to offer turn-key workforce modular housing that offers cozy, secure, and climate-controlled sleeping arrangements for a number of workers at almost any site. Additionally, they can be built with showers, military kitchens, and restrooms if necessary.
Providing reliable, comfortable, and safe temporary or emergency housing shelter with military field kitchens as needed, Mobile Kitchen Rental offers remote workforce housing renting or leasing, including military deployment, for Disaster Relief Efforts, Oil Field Support, Man Camps, Forest Fire Fighting Support, and many other remote locations where key service personnel can have a reliable place for some much-needed downtime recharging.
A premier provider of on-site temporary housing and military field kitchen rentals is Mobile Kitchen Rental. Bunkhouse trailers, bathroom and shower trailers, portable locker rooms, military food services, and other items are all part of our product line. Our business is a rising star in the field of turnkey worker housing for emergencies. We take great satisfaction in offering top-notch product quality, skilled craftsmanship, and superb customer service.
Our crew has a wealth of expertise in creating, delivering, and renting out remote workforce housing trailers. A dedication to complete client satisfaction runs throughout our company.
We welcome the opportunity to meet with you in person at either your facility or ours. 
Giving Your Response Crew the Space to Recharge
Natural disasters and emergency situations are intellectually, physically, and emotionally taxing, therefore whenever possible, your crew needs to obtain a good night's sleep and dependable base camp planning services. Responders will be better able to make wise judgments and take action with intention when they are given the time and space to rest and refuel. Our mobile workforce housing shelters and DFACT services are made to be as comfortable as possible so that individuals may attend to their specific requirements.
Birmingham
Montgomery
Mobile
Phoenix
Tucson
Mesa
Chandler
Glendale
Scottsdale
Gilbert Town
Little Rock
Fort Smith
Fayetteville
Springdale
Aurora
Colorado Springs
Denver
Bridgeport
Hartford
New Haven
New London
Norwich
Waterbury
Alexandria
Georgetown
Washington
Fort Lauderdale
Hialeah
Jacksonville
Miami
St. Petersburg
Tampa
Bay City
Detroit
Flint
Grand Rapids
Saginaw
Warren
Long Beach
Oakland
Orange
Riverside
Sacramento
San Diego
San Francisco
San Jose
Los Angeles
Fresno
Bakersfield
Anaheim
Santa Ana
Chula Vista
Fremont
Irvine
Modesto
Glendale
Ontario
Corona
Pomona
Torrance
Stockton
San Bernardino
Fontana
Moreno Valley
Huntington Beach
Santa Clarita
Oceanside
Lancaster
Palmdale
Salinas
Fullerton
Thousand Oaks
Visalia
Concord
Roseville
Vallejo
El Monte
Berkeley
Costa Mesa
Inglewood
Ventura
West Covina
Carlsbad
Santa Monica
Hawthorne
Livermore
Lakewood
Alameda
Redlands
Akron
Canton
Chilicothe
Cincinnati
Cleveland
Columbus
Dayton
Springfield
Steubenville
Toledo
Youngstown
Zanesville
Atlanta
Augusta
Columbus
Savannah
Chicago
Peoria
Quincy
Rockford
Springfield
Evansville
Fort Wayne
Gary
Indianapolis
Madison
New Albany
South Bend
Terre Haute
Burlington
Davenport
Des Moines
Dubuque
Sioux City
Kansas City
Leavenworth
Topeka
Wichita
Covington
Lexington
Louisville
Newport
Baton Rouge
Lafayette
Metairie
New Orleans
Shreveport
Allegheny
Allentown
Altoona
Carlisle
Easton
Erie
Harrisburg
Johnstown
Kensington
Lancaster
Moyamensing
Northern
Liberties
Philadelphia
Pittsburgh
Pottsville
Reading
Scranton
Southwark
Spring Garden
Wilkes-Barre
Williamsport
York
Concord
Dover
Manchester
Nashua
Portsmouth
Charlotte
Fayetteville
Greensboro
Raleigh
Wilmington
Bayonne
Camden
Elizabeth
Hoboken
Jersey City
Newark
New Brunswick
Paterson
Irenton
Augusta
Bangor
Gardiner
Portland
Cumberland
Newport
North Providence
Pawtucket
Providence
Warwick
Memphis
Nashville
Chattanooga
Knoxville
Alexandria
Arlington
Fredericksburg
Lynchburg
Norfolk
Petersburg
Portsmouth
Richmond
Virginia Beach
Albany
Auburn
Binghamton
Brooklyn
Buffalo
Cohoes
Elmira
Hudson
Lockport
Newburgh
New York
Oswego
Poughkeepsie
Rochester
Schenectady
Syracuse
Troy
Utica
West Troy
Williamsburg
Yonkers
Andover
Barnstable
Beverly
Boston
Brockton
Cambridge
Charlestown
Chelsea
Chicopee
Danvers
Dorchester
Fall River
Gloucester
Haverhill
Holyoke
Lawrence
Lowell
Lynn
Marblehead
Middleborough
Nantucket
Sherburne
New Bedford
Newburyport
Plymouth
Roxbury
Salem
Somerville
Springfield
Taunton
Worcester
Amarillo
Arlington
Austin
Corpus Christi
Dallas
El Paso
Fort Worth
Galveston
Garland
Houston
Lubbock
San Antonio
Plano
Irving