This Mobile Kitchen Trailer 66 Ft Design has three-compartment sinks with drain boards along with six-interior counter and handwashing sink. It is equipped with 100 A panel box, 2-64×40 concession doors and serving windows, 6-4ft double fluorescent lights, a light switch, 20A dedicated outlets and a roof vent. It also consists of a fresh water tank, hot water tank and waste water tank.
MOBILE KITCHEN TRAILER 66 Ft FOOD PREPARATION EQUIPMENT
For your food preparation needs, it is equipped with four propane tanks with brackets, 2-36 flat-top grills, 1-40 deep fat fryer, 1-6 burner oven, 3-well steam tables, 2-36 Stainless Steel equipment tables. A 19 cubic feet stainless steel refrigerator is also available for food storage.
MOBILE KITCHEN TRAILER 66 Ft SAFETY SYSTEM
For your safety, we have installed our trailers with exhaust hood with slash guard and a wall-mounted fire extinguisher.
MOBILE KITCHEN TRAILER 66 FT PHOTO GALLERY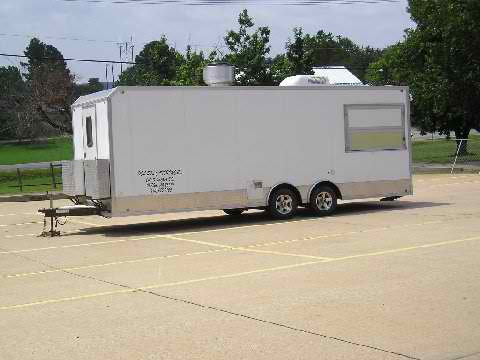 For further assistance, please call (800) 205-6106 or visit our official website www.doukitchenware.com for all Mobile Kitchen Rentals inquiries and concerns.